October 17, 2007
Today marks a new milestone in my life, the return of 4 of my 8 dresser drawers. I finished moving Alana's clothes out of my dresser into her newly acquired dresser, so that I no longer have to hang ALL my long sleeved shirts and put overflow items in plastic tubs in the closet. Here is a little history on how I have managed to have half a dresser for the better part of 4 1/2 of the past 6 years……
When Benton was born, we purchased an armoire-type dresser. It was all his. After his brother was born, Carson's clothes went into half of my dresser. Our house at the time had only 2 bedrooms since the 3rd "bedroom" was the office. This worked well since Carson slept in the master bedroom until after he was 6 months old. At that point, he moved into sharing a room with Benton, but still got changed on the changing pad located on my dresser. His clothes were close at hand where they were needed most, so we did not have to disturb Benton's sleep during middle of the night changes.
When Carson was 18 months old, we moved to a bigger house and had the luxury of separate rooms for the boys. Carson acquired the armoire and we purchased a new white dresser for Benton. This worked well and I once again had all 8 drawers of my dresser to myself.
Here's where I will share a relatively irrelevant picture since this blog seems more fun with some pictures. This was taken in April of 2004 when Carson was about 2 and a half, a time when I got to enjoy my entire dresser, briefly.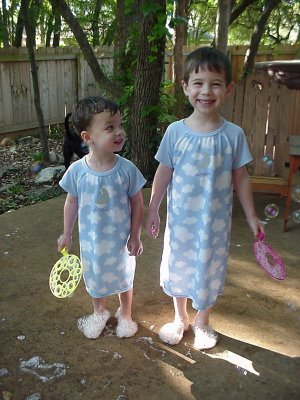 Then, in June 2005, along came Alana……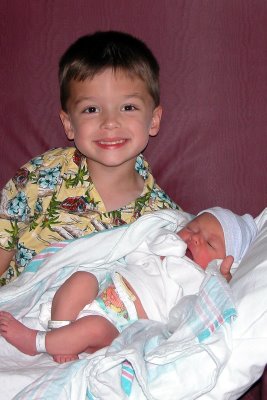 This is where is gets complicated. Since my dresser was really the ideal spot to use as a changing table, it made sense to put Alana's clothes in half of my dresser and I once again boxed up some of my clothes. A few months after Alana arrived, Carson started sleeping in Benton's room, while Alana started sleeping in Carson's old room. Here is where it got complicated.
In order not to wake Carson in the morning, Benton had to pick out his clothes the night before school, since he had to get up early. So as not to wake Alana in the morning, Carson had to pick out his clothes the night before once Alana started sleeping in. No one seemed to have access to their clothes when they were needed.
Along came our move to Ohio and the luxury of a yet a little more space. With this move, Benton and Carson each got their own room, so each had their own dresser. Until today, I still shared my dresser with Alana since we only had 2 other dressers for the kids. Last week, Benton got a new bedroom set with a dresser. So, after emptying out the white dresser and after Tim re-glued the legs the movers broke off (that's a whole other story….), the white dresser moved into Alana's room and today her clothes have followed!
And this is where I have now reclaimed my dresser. Yes, it is all mine. I suppose this is sort of the euphoria Tim is feeling over having a workshop in the basement that is not a shared space like he had in the garage in Texas, where he had to look at, work around, and clean up all the toys, bikes, and clutter that the kids and I generated. Somehow, I think he is probably a bit more smitten, but I am still glad to have my clothes readily at hand.
__________
A final update on the sore throat. It was indeed Strep, though not identified with the 5 minute test they can do at the doctors office. The antibiotics I am on will do the trick, so I continue to heal. We are on the lookout for any signs of a throat issue in the rest of the family. Fingers are crossed.