November 4, 2007
Benton — shown here on our buckeye hunt — and I (Tim) took Alana down to the river on Saturday morning and built a fire on the bank. After dark on Saturday night, the two of us walked the back way (down a deer trail cutting across a steep hill) down to the river and around to where the fire had been (I'd put it out with river water before leaving it mid-morning). It was a new moon (or a late-rising moon), so very dark…and pretty cool!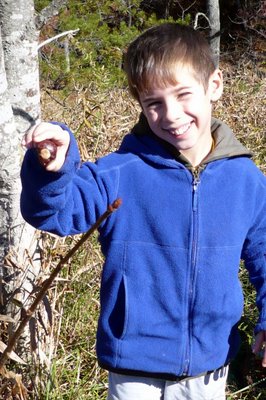 Carson got some quality time in with Grandpa Bob on Saturday afternoon as they headed up to the area around the high point to put out corn for the deer. Carson was quite the chatterbox and is anxiously awaiting the time when he turns nine so that he can go hunting. I don't know if Bob came up with "nine" on the spot, or if he was basing that off of deeper thought related to Carson's eldest cousin, Tyler. Either way, Carson is counting the days, and he is somewhat perplexed that Benton, who will be nine in less than half a year, is not interested in hunting!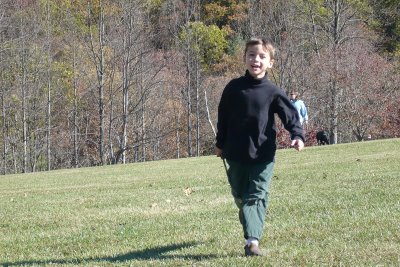 Alana. Cute. As. A. BUTTON! While jumping in the leaves, she brought a "berry" she had found on the ground over to show to Julie and Bob. Turns out, deer turds look a lot like berries to a 2-year-old!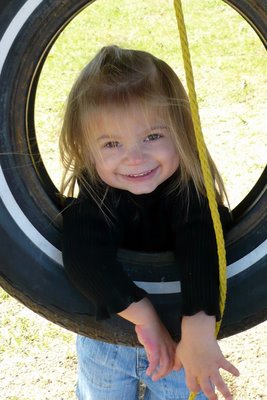 And…the buckeye hunting. We spent some time rooting around the base of a buckeye tree behind the barn and filling a bucket with fallen buckeyes. The best bet is that these will get transformed into a buckeye necklace.