December 2, 2007
We were out of deer feed for our backyard visitors, so Carson and I made a run up to Delaware (Ohio) to Champaign Feed and Supply yesterday. On the way, we stopped off to check out the Ohio Wildlife Center satellite facility that I'd noticed on my last trip up to Delaware. It's just 10 minutes from our house, so it seemed worth a look. It turns out that it's a wildlife rescue facility. There was no one there to actually talk to to get details, but we got up close to a number of rescued animals: a barn owl, two horned owls, two American kestrels, a squirrel, a couple of raccoons, a red-tailed hawk, and even a coyote!
Carson, of course, identified the barn owl just by looking at it ("I recognized it because of the heart shape on its face") and the red-tailed hawks. And, he spent a good amount of time studying each one. We then moved on to what looked like a hiking trail that led off behind the buildings. It has not been highly used or maintained, but it had signs at various spots explaining the different types of trees and flora in the area, which Carson was interested in stopping and reading. And, of course, anything that looked climbable really held his attention!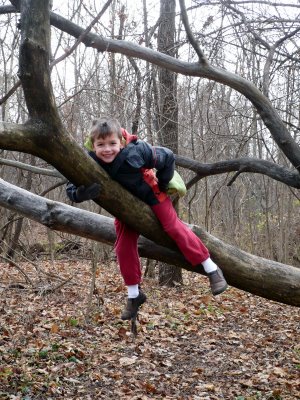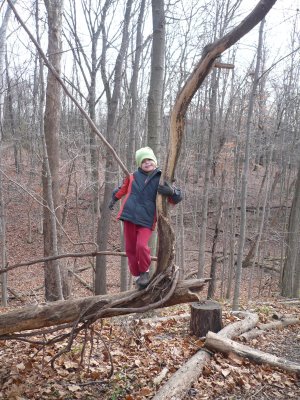 We found a side trail that went down 50-80 feet to the water's edge. I'm not entirely sure what the body of water was — part of the Scioto river, part of some reservoir? I simply don't know. But, it was frozen and 1/4- to 1/2-inch thick (the temperature was in the high teens). I gave carson a stick to explore it with, and he proceeded to break through the ice for a good 30′ stretch of shoreline. He also occasionally "posed" for a picture that might get both of us in trouble when later viewed by his mother: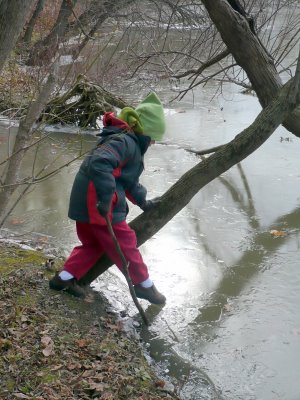 We also discovered that, if we throw a stick out on the ice, it would skitter along for a good, long distance (even to the other shore), which was pretty fascinating for a couple of warm weather natives! We agreed that we will be going back for further exploration!