February 4, 2008
The National Hockey League is dying faster than the tulips I gave Julie when we were in college (a story for another time…which Julie will never live down). Nonetheless, Julie is on a kick to "expose" the kids to a lot of different things, and that includes hockey (they'll be introduced to downhill skiing in a couple of weeks).Columbus is actually a hockey town, in that it's the home of the NHL's Columbus Blue Jackets. "The who?" you say! That's right. The Blue Jackets. They're a genuine NHL team (as much as the Vancouver Grizzlies are a genuine NBA team, that is). This season, they actually have a shot at making the playoffs, although they're doing what they can to squander that opportunity.
Julie initially thought we'd grab tickets to a Blue Jackets game. Until she saw the ticket prices. Yowza! We're not exactly talking minor league baseball prices! Then, over lunch with Kim Cristofoli (a fellow gymnast from Julie's youth), she found out that her Kim's sons both play hockey. In a fairly elite league, no less.
Even better? They play their home games at Nationwide Arena (where the Blue Jackets play) or at Ohio State's rink. Both are nice facilities. And the games are FREE! We loaded up the family on Saturday to go see these 15/16-year old Blue Jackets (they are somehow actually affiliated with the NHL team) play the St. Louis Blues (who…yes…had travelled in from St. Louis!). These guys could actually play! They ran plays, made passes, and crashed the boards at full speed: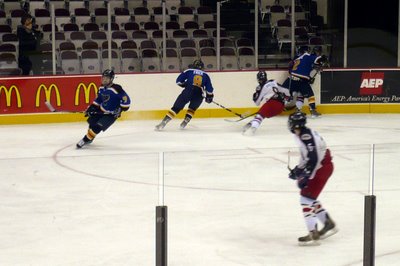 While Julie, her friend, and Benton (zoned out — recovering from a very late sleepover with his friend, Josh, at our house the night before) watched from the 30th row or so, Carson, Alana, and I moved steadily closer to the action: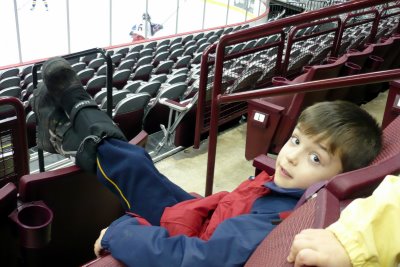 Eventually, the three of us found ourselves sitting right up on the glass, just 8 seats away from the penalty box. Carson and Alana both jumped a bit at the first hard check into the boards right in front of us…but both decided that was FUN! When the game ended (it wasn't really a contest — the Blues won easily), we started back up the aisle. I was 8 rows up when I heard someone on the ice pound on the glass. It was one of the refs, who had obviously noticed us watching. He flipped me a puck for Carson.We had to hold onto the kid's feet to keep him from floating off into the clouds. He's still talking about it!