January 4, 2009
It's 9:30 on Sunday morning and Julie has just left for her second trip to the gym of the day. She got up early this morning to go and work out, and she picked up a flyer while she was there about a power yoga class that was later this morning. She grabbed bagels on the way home, showered and got dressed once she got home…and then decided to head back out for the class. I may have a very sore wife come tomorrow morning.
I didn't want to wait too long before getting our New Year's post up. The "Memories from our Youth" in the title is a bit of literary license, I suppose, but it's fair to say that our generation has collective memories of fondue parties, martinis, and gatherings running late into the night where both were involved, while the kids (us) were off in basements or upstairs happily entertaining each other.
For New Year's Eve, we passed on the fondue (Julie got a fondue pot last year for Christmas, and we tried it then with success), but we did plan out an informal, miniature progressive party that started at our house and ended two houses later at the Carlins. None of us had ever participated in a progressive party, and I don't think any formal research was done on the subject, so who knows if we stayed at all true to the basics?
We started at our house with 7-layer dip and Sweet and Spicy Martinis (cinnamon-flavored vodka, triple sec, and sweet vermouth). The ladies — Beth, Julie, and Dedie — dressed for the occasion: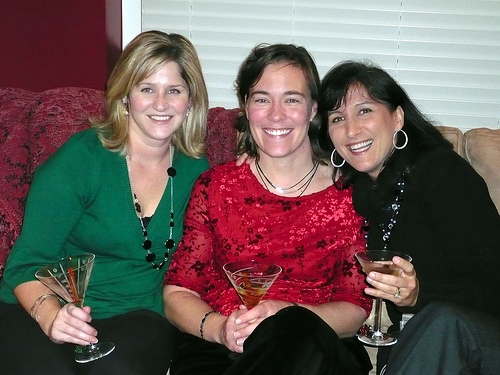 We then moved next door for fried walleye, "hanky panky" (sausage, beef, cheese, and seasoning on rye bread as well as stuffed in mushrooms), cheese and crackers, and  pomegranate martinis (and later cranberry martinis). Finally, we headed several more doors down to end the night with fried cheese, buffalo wings, and lemon drop martinis.
The kids (eight from the three families participating, plus one friend of Benton's) were happily shuttled along each time and were fairly self-sufficient throughout the evening. Benton and I hit the hot tub at the final house just shy of midnight, and we were joined later by the ladies for a bit.
Alana sacked out in her sleeping bag partway through the evening, but Benton and Carson were both up for the duration, getting to bed back at our house some time after 1:00 in the morning. Carson proceeded to log a full night's sleep — not getting up until after noon on the first!