May 9, 2009
As soon as the Trail-A-Bike arrived for my Mother's Day present, Caroline, an almost 5-year-old neighbor and playmate of Alana's, wanted to take her training wheels off her bike.  She started practicing on the grassy hill in her family's backyard.  While playing at her house, Alana tried riding on two wheels and, thus, began the start of the end of training wheels for these girls.
Caroline took the lead, practicing quite a bit over the past week.  She went from riding in the grass one day to the bike path and cul de sac the next.  One day her dad chased behind since she did not know how to stop.  Soon she was master of the brakes (well except for that run in with the trash can) and was independently starting and stopping. 
Alana watched intently as Caroline practiced.  Late last week, Alana figured it out.  She did a lot of riding just a few feet, working out how to stop without falling.  Then, all it took to get her going was an audience.  As soon as our neighbor Dedie came out and could watch, Alana made it all the way around the cul de sac without stopping.  So far, no crashes, but the band-aids are ready when needed.
The picture proof: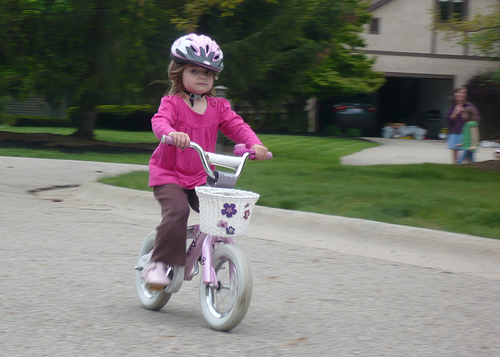 The video proof:
This doesn't mean the Trail-A-Bike was for nought — it'll be another year or two (and a larger, probably geared bike) before Alana will be able to manage the hills on the local trails. But, this is still a major milestone!