September 1, 2010
After spending a week up at Lake Erie this summer (we've got a serious backlog of posts to work through here — Julie took the kids up to Middlebass Island so that Alana and Carson could attend a camp there while Julie hung out with several of the ladies from the 'hood), Julie announced that it sure would be nice to have a TV in our kitchen that she could flip on in the morning to catch a morning news show while she was working on breakfast, scrubbing the floor, dusting the light fixtures, and all those other homemaker-ly things that keep her tethered (barefoot, of course) to the hub of our domesticity.
That gave me the opportunity to do three of my favorite things:
Keep my eyes peeled for a good deal on a piece of electronic equipment
Cut holes in the wall
Make Julie happy
Within a month, I'd found a great deal online on a refurbished Westinghouse TV (who knew that Westinghouse still existed as a brand…and a brand that makes decent TVs?!) and had ordered both the TV and a mounting bracket. When Julie headed to the Jersey Shore (<sigh> another post not yet written), I had a weekend to actually pull the cable (TV and electrical) to the designated spot. When the bracket arrived the following Friday, I got it mounted, and, Saturday morning, Alana watched cartoons…while perched on the island. The TV was positioned to allow Julie to easily see it from the sink/stove/oven/fridge — not from kids' preferred cereal-eating spots.
By Sunday afternoon, when Alana and a couple of her friends came into the kitchen looking for a snack, Alana announced: "We can sit up here!" I took a break from making the pizza dough to document the result.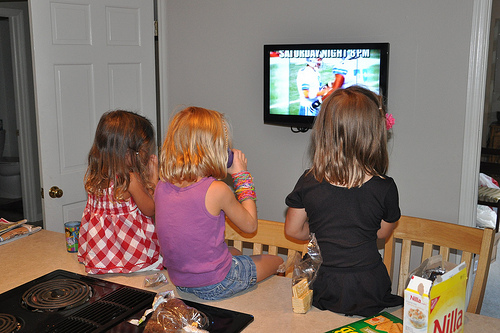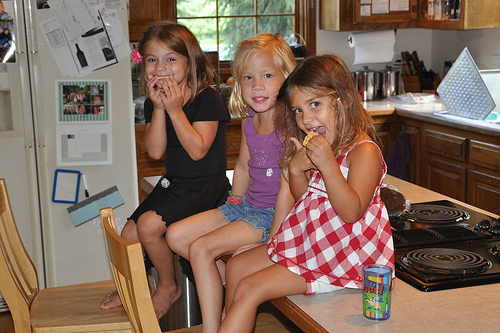 To their credit, as soon as their tummies were full, they climbed down and headed off (of course, I think I had a PGA tournament on, which is hardly engrossing material for girls at that age!).