June 2, 2007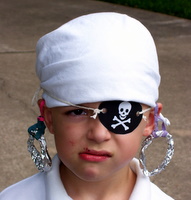 I missed it (that whole "earn a paycheck" thing), but Julie took the kids to both the
Texas Jumping Bean
and the
Austin Children's Museum
yesterday. I think the boys might have squeezed in a dip in the pool as well…although that might have been Thursday.
Benton came away from the Texas Jumping Bean with minor abrasions — all of them blamed on Carson, of course, in his explanation (thus the fierce Carson pirate picture from several weeks ago at right)!
I "played" myself after work by going to a Round Rock Regional baseball game — The University of Texas against Brown University. Texas was the top seed and everyone was expecting a blowout, but the Brown pitcher held Texas to just a couple of runs over the first six innings. It wasn't until his pitch count got well over 100 that Texas was able to do some real damage. In the end, Texas won 8-2, which means they play again at 6:00 PM today against UC-Irvine (UC-Irvine blew out Wake Forest in the first game on Friday). It's the last hurrah of the college baseball season for me — even if Texas advances to the super regional in Corpus Christi and then on to Omaha for the College World Series…I'm going to be busy getting moved to Ohio, so no road trips (this year!).