November 10, 2007
Last week, the Glacier Ridge PTO paid to bring in a stone sculptor, Gideon Nyanhongo, from Zimbabwe, to come sculpt for the kids. He gave demonstrations to all the classes during the week. He also did a few sessions on sculpting with smaller groups, where students got to sculpt soap with Gideon. Two students from each class were chosen to go. Carson was one of the 2 from his class and he decided to sculpt an owl.
After a suggestion from his teacher, I decided to buy a bunch of soap and let Carson teach the rest of the family how to do this. Grandma Pam came to visit on Friday for the night, so Saturday morning seemed a great time to tackle our assignment.
Let me set the scene….
We all slept in, not getting up until sometime after 7:45am, some as late as 8:15am. The kids all got busy doing things like coloring and fuse beads while Tim got biscuits going. We were in no hurry, though I felt the kids should eat something, so I got Alana, Carson and myself some food. Though I offered up oatmeal to Grandma, Tim, and Benton, I had no "takers" as they were going to wait on the biscuits.
By 9:00am or so, with the biscuits in the oven, it was time for Carson to teach us how to sculpt our soap. We all sat around the newspaper-covered kitchen table awaiting the handout of our soap. Alana wanted to do play dough, but quickly requested a bar of soap in order to be like the rest of us. Carson remembered lots of key elements from his sculpting class, like don't touch your eyes until you wash your hands! As we used our pencils, plastic spoons, forks, and knives, we discovered that the Dove soap I bought was a little harder to carve, and not shaped too squarely. Nonetheless, we persevered.
I picked a snowman for my soap creation, which seemed reasonable given it was white. Tim was inspired to make a tree, while Pam worked on another snowman. During the carving process the soap "told" Pam it wanted to be a penguin instead when part of its head came off forming a beak-like shape. Benton started a sunburst, while Carson worked on a human.
Soon, the timer went off, the biscuits came out to cool, and the carving continued.
Later when the biscuits were cold, we were lamenting the absence of power tools for our project and discussing how Grandma Pam, Benton and Tim had not yet had any food despite it being 10:30am. We carved on.
At one point, Tim hastened downstairs and fired up the band saw. When I heard the noise, I assumed he must have gotten tired of using his plastic knife, but when he returned I discovered he was simply building a stand to hold his creation. In the end, everyone ate, but not before 3 sculptures were completed.
Behold, our morning efforts at art…..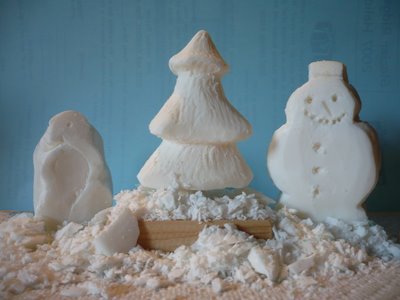 This is a far cry from the work of the 2nd generation master carver whose work is far more complicated and beautiful……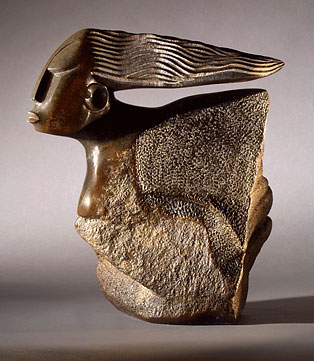 ….but I, for one, enjoyed the experience of trying out this craft and especially of having Carson be my teacher. If you use the guest bathroom in the next few months, you are apt to have some oddly shaped, somewhat lumpy soap to use with a fond memory carved out of it.