November 25, 2007
Still no snow in Columbus, but we headed north — towards Cleveland and the lake effect — for Thanksgiving. There was a sufficient dusting there to get the Wilson Kids outside and eagerly making snowballs off of the trampoline and deck. Their cousins followed…semi-reluctantly (it would be hard to find two kids who are better sports about this sort of thing).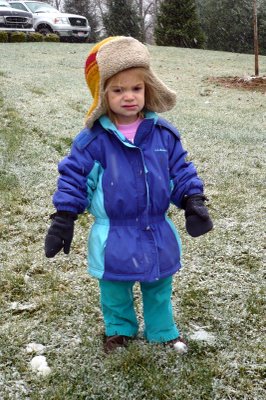 Alana's hat. Funny story. We were in Krakow, Poland for Julie's brother's wedding. Julie picked this up from a street vender and thought it would be good for Benton. It was priced at ~$10 US. As Julie was trying to ask something about it, the vender thought she was haggling. Ultimately, it cost us $6 and is on kid no. 3!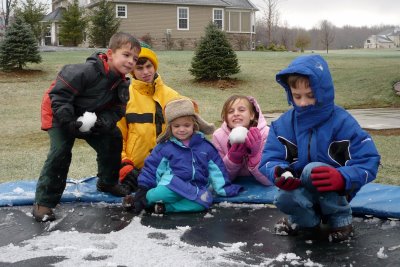 Part of the reason we moved to Ohio was so the kids could be closer to their cousins. Until early next year, this is the whole crew: Carson, Tyler (Lyren), Alana, Meg (Lyren), Benton.