December 5, 2007
Our backyard at about 10:00am this morning…...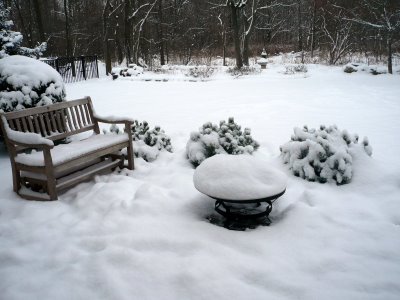 Finally!!! After asking many, many times about when it would snow, the kids awoke to a pleasant surprise this morning. The snow started falling last night and had accumulated to about 2-3″ by the time Benton was up. More snow was predicted for the rest of the day, so about 140 different schools in the area were closed or had a delayed start. Of course, that did not include our district, so Benton could only play in the snow until the bus arrived at 8:40am. This meant a quick breakfast and out the door for us. We were outside by 8:00am ready to shovel the entire driveway into a sledding hill. We succeeded to make a small hill.
At about 8:30 am, Carson awoke devastated that he was going to miss the snow. He fussed loudly enough about my not waking him up to come outside, that Alana was up in no time and ready to head out. Fortunately, Grandma Marilyn was here to help ensure they had some cereal and clothes on before heading outside. So, while I trotted to the bus stop with Benton, they got ready.
At the bus stop, we were the only people not sitting inside a warmed up mini-van awaiting the bus. The 4 kids that catch a bus about 5 minutes before Benton's arrives were not so enamored with the snow, apparently. Benton got on the bus with assurances from me that we would continue our snow play as soon as he gets home.
By the time I returned, it was time to suit up Carson and Alana. We headed out and had a great time piling snow, sledding, and throwing snowballs. At one point, Carson tried to teach Alana how to make a snow angel. It was a very sweet thing to witness. Needless to say, I had a great time playing "kid" in the snow and am looking forward to the arrival of the bus at 4:00pm so I can enjoy it with all 3 kids at the same time.
Of course, I am not fool enough to think this will be everyone's reaction after our 10th snowstorm, but for now, let it snow, let it snow, LET IT SNOW!!