October 23, 2008
As most of the readers of this blog know by now, I'm leaving Bulldog Solutions to join Nationwide in a few weeks. I've still got a few more days left at Bulldog, and I'll be leaving behind some pretty fun/funny co-workers. Case in point:
Some time in the last year — I honestly don't remember the specifics of how it got started — one of my co-workers made a "Tim Wilson Fan Club" sign and declared herself both the charter member and the president. Anotherco-worker picked up on that at some point (again, I don't recall the specifics) and made her own sign. That co-worker changed the charter member from "President" to "Boss."
It was good for a chuckle, and, on most of my trips to Austin, I would commit some sort of transgression that would threaten the continued existence of the fan club.
Apparently, my last trip made those threats a reality. I received a letter in the mail today: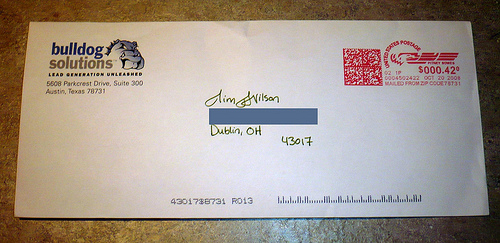 Inside the letter, was a piece of paper torn up into bits: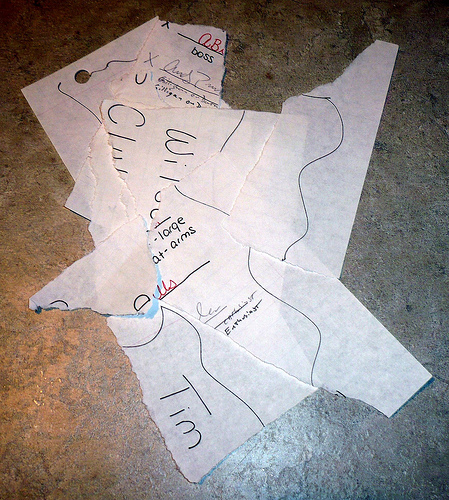 Re-assembled: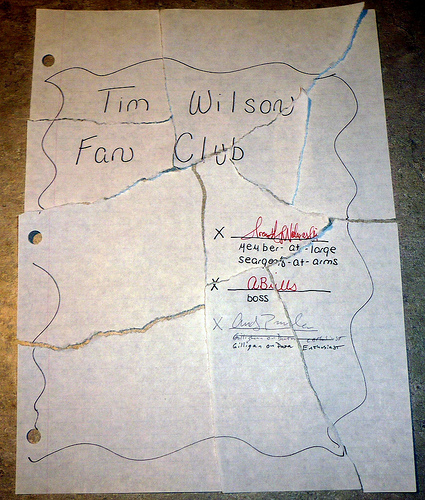 I believe I am now officially "dead" in the eyes of the member-at-large! Now, the interesting aside is that this same member-at-large is currently running the 196-mile Ragnar Relay from Austin to San Antonio. When she was looking for team members for the race, helped her recruit my sister as an alternate. And, no great surprise, she got sucked in to actually run. I hope Kim holds her own during the race. With luck, there will soon be a Kim Wilson Fan Club to replace the now-defunct Tim Wilson one.