November 15, 2008
These pictures are from a few weeks ago, but they seemed worth posting (and I've probably got another couple of posts from this trip as well — Benton's "flaming mini-raft" needs to be written up, for sure). One of the real benefits of moving back to Ohio is that it's a lot easier to get to Julie's dad's farm in West Virginia.
The foliage was pretty great on this last trip. Benton and I took the 4-wheeler for a drive and went up to "The High Point," which is a grassy knob that is the highest point on the property. From there, you can look out and see a good chunk of the property and where different things are in relation to each other. And the foliage was spectacular.
Looking back towards the hunting cabin, where Benton and I spent Saturday night so we could watch the Texas-Texas Tech football game (the cabin is the little red building near the middle of the photo):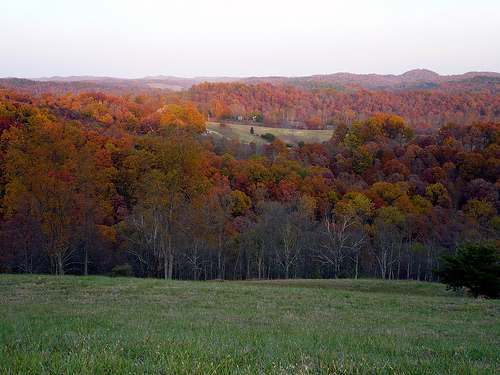 Looking over towards the farmhouse and the barn. The barn has a new green metal roof, and the farmhouse is white — they're to the right-middle of the picture: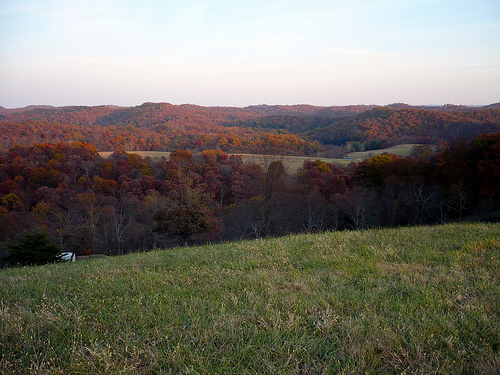 While we were driving around on the 4-wheeler, we saw a half-dozen groups of deer, including a few that were below us on the high point: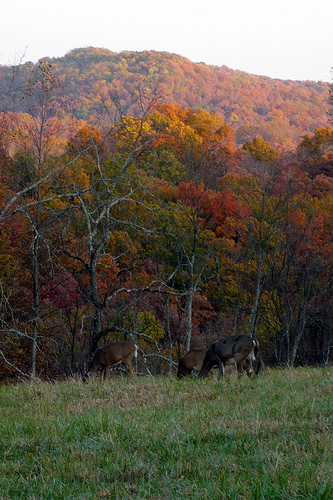 And, the next morning, as we walked back to the farmhouse from the hunting cabin, we walked down in the woods rather than on the gravel road that runs between them. There were a half-dozen deer up on the road, while we were down in the woods, so the normal perspective was reversed: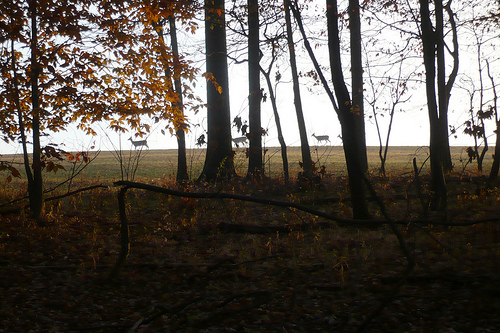 And, finally, we walked down to the river — not shown in any of the photos above — on Saturday. There's a little cut/gravel bar along the river that I always like to walk out on and take a few photos from looking upstream. It's amazing how the picture always looks different. Three main variables that cause that: the time of day, the time of year, and the weather. This was a fall afternoon on a sunny day: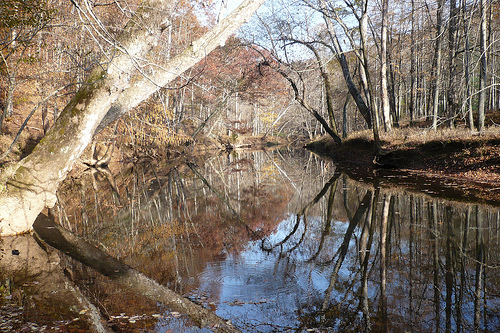 Benton decided before we even got to the farm on this trip that he wanted to try to make a small raft, light a fire on it, and push it out into the water. It took some doing, but we were successful! That's a topic for another post, though.