February 15, 2009
First, there is the Valentine's Day tradition of the intra-class valentine exchange. Benton's class had a contest when it came to the creation of their valentine boxes. Benton conceived and executed a military-themed box, which received an honorable mention in the all-around category: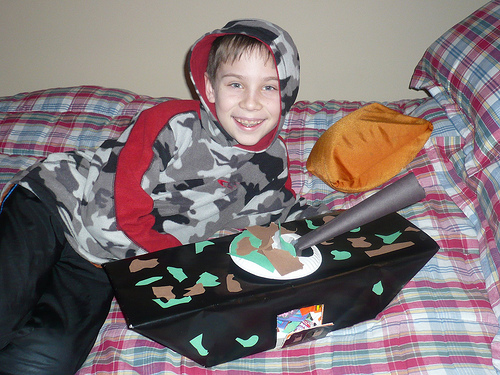 Meanwhile, Julie is introducing the neighborhood to the art of cake decorating that she learned from her grandmother. This evening was a joint birthday party for two of the three Carlin children, and Dedie-the-too-much-energy-and-undaunted-by-any-task mother decided that this would be a good opportunity to give cake decorating a shot. She and Julie spent a good chunk of Friday afternoon and then all of Friday evening (including an hour into Saturday morning) working on a valentine-themed cake and a WALL-E cake (if you're not up on your animated movies, you can get the gist and see a picture of WALL-E here):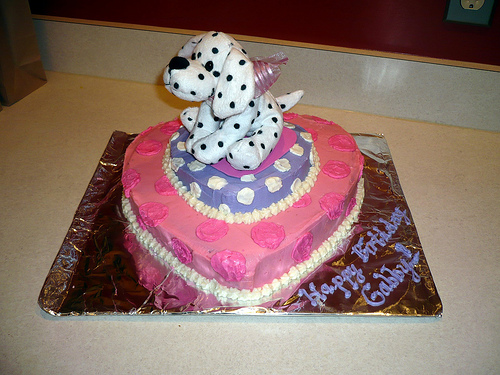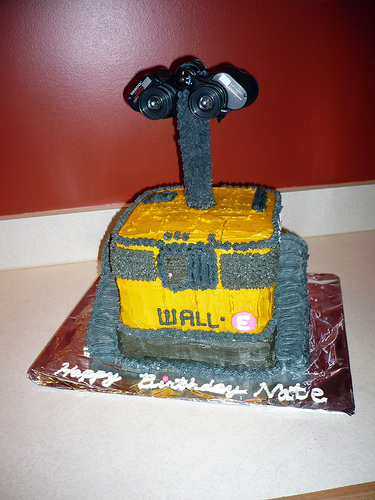 Finally, Benton had a friend over to spend the night on Friday night, and they spent a good portion of the evening and Saturday morning coming up with scenes to video. My favorite is actually one where they set the camera up on the edge of the pool table and then rolled balls around on the table — including directly at the camera — but it's a bit long, and I'm not up for editing it down.
Benton found a really good deal on a reconditioned Flip Ultra F260, which he ordered today, so I'm expecting to post more of his work here in the future. For now…here's one of their destructively creative efforts (shot using the video feature on one of our Panasonic DMX-FX12 digital cameras):
More to come! I'm hoping he gets into editing, too, so that they're a bit tighter. We'll see…