June 15, 2009
I realize now that I left out a key detail in the story of Alana's Build-A-Bear: the bear, although definitely a girl, is named "Charlie." Alana has been on something of a Charlie kick, actually. Last month, when the Columbus Zoo conducted a contest to name their new baby elephant, Alana had Julie submit the name…"Charlie" (Beco — pronounced BEE-ko — won).
Neither one of us was clear on where the Charlie fascination was coming from. Benton, in hindsight, claims that we could have simply asked him, as he knew all along. It turns out that Charlie is one of Alana's favorite musicians: Charlie Robison. Singer/songwriter, originally from Bandera, Texas, who has an alternative/edgy/indy country-type style (rockabilly, maybe?). Younger brother of Bruce Robison (husband of Kelly Willis). Ex-husband of Dixie Chick Emily (Erwin) Robison.
Of the dozen or so CDs that Julie keeps in a case in the visor of her van, one of them is Robison's Step Right Up. Alana is a fan of a couple of the songs in particular — "Preacher" and "John O'Reilly" — and it's not uncommon for her to make a request to "put on Charlie Robison!"
And…that's where the "Charlie" obsession came from.
Mother Luck decided to gaze as fondly on Alana as her father does during our trip to Austin last week. Who was slated to play on Saturday night at The Nutty Brown Cafe? Charlie Robison! $12/person and kids under 12 got in free. Nutty Brown is a great venue — less than 5 miles from my parents' house, has good food (they do a variety of "chicken fried" dishes well, they used to have a Friday night fajita buffet that was great food at a great price, and…they let the Carport Casanovas play once a month on their smaller stage). I was, very briefly, a member of the Carport Casanovas, but, by that point, my "best friend since the second/seventh (accounts differ as to which) grade" had gotten so used to kicking me out of his bands that I didn't last until the first gig. But I'm not bitter. Really! I'm not!
I digress.
We snagged tickets as soon as we realized Robison would be playing. We met up with our former neighbors, the Schaafs, early so we could get a good table for dinner and the show. Judy and Alana caught up on things: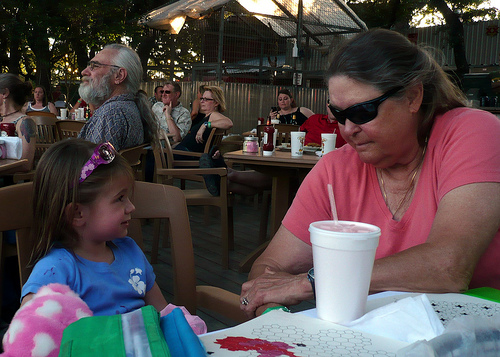 Jerry and Benton did the same: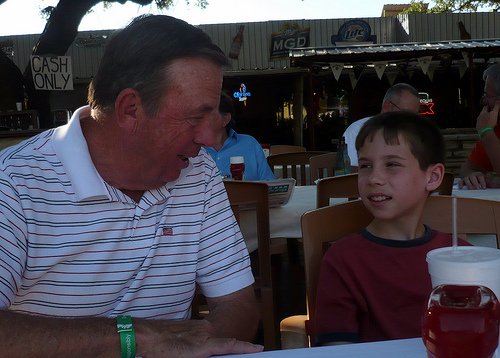 And Julie and Jerry…were just photogenic: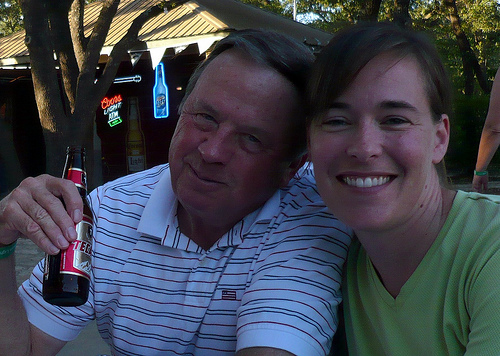 The opening act was Zane Lewis. Julie and Alana danced near our table a bit: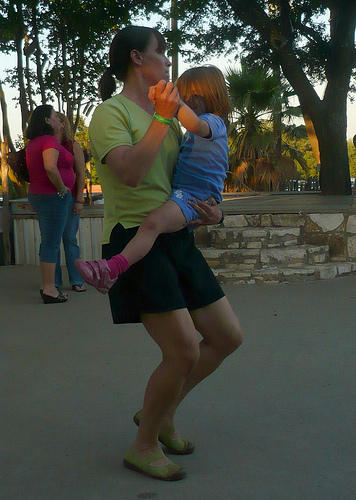 And, then, finally, The Man Himself came on: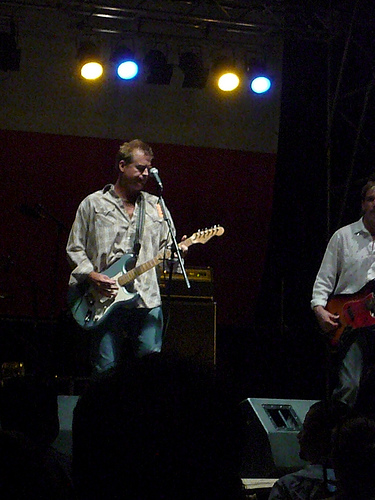 Alana. Was. Enthralled! She waved at him (no reciprocation…but she didn't seem to mind):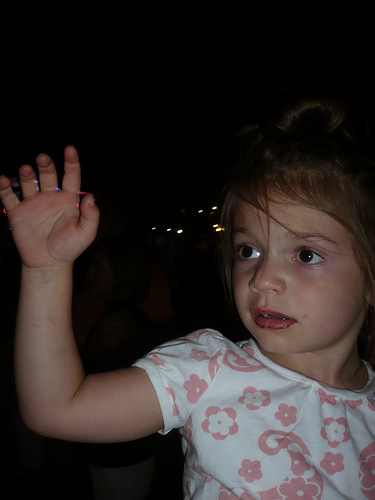 She spent quite a while on my shoulders at most 30 feet from The Man Himself, and, apparently, was swaying to the music…but my one-handed photo really didn't do that justice: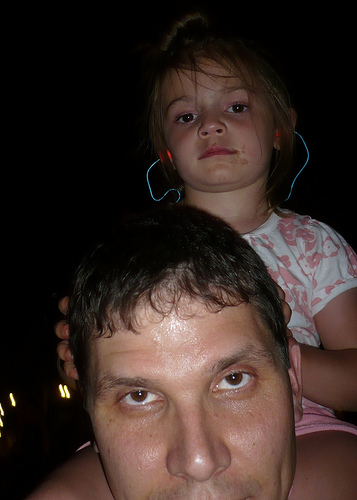 After every song, I pulled her down and asked if she wanted to go back to our table…and she did not.
Eventually, I coaxed her away.
The next morning, she was still talking about the experience: "He's a really good singer!"