August 16, 2009
Our two-part visit with the Herberts — great friends from Austin — wrapped up early on Saturday morning when Bob and Jack flew back to Austin. They swung through Columbus on their way back to Austin from Michigan (they also had stopped — with the Herbert women in tow — on their way to Michigan to visit Jen's family).
Wednesday
I put Bob to work on Wednesday getting a new toilet installed and tackling some other necessary home renovation tasks in preparation for an extended visit from Julie's mom.
Thursday
On Thursday, we did a little exploring of our neighborhood, including walking over and around the O'Shaughnessy Dam near our house. I worked with a fellow once who grew up within a few hours of the Taj Mahal…and never visited it. We'd never been up close to the dam, despite driving over it countless times. It's actually got an interesting history and was apparently nationally covered when it opened in 1925.
Benton and Jack checked out the river below the dam: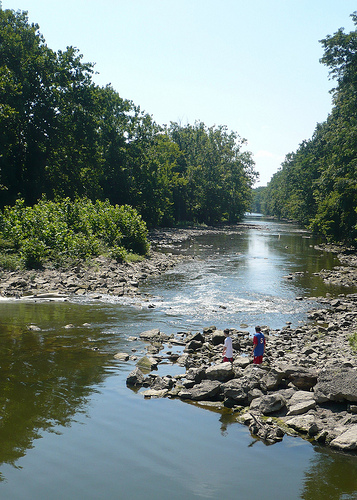 Bob snagged a fellow from the City of Columbus to ply him with questions: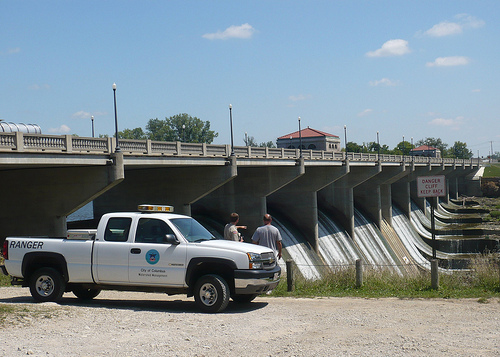 Thursday night, we headed to a Columbus Clippers baseball game, which was fun. Alana even got into the game once Julie explained that they were playing the same game she plays in our front yard…albeit without any pink bats or gloves, and the batters were not able to successfully round all of the bases on every hit, as she does.
Friday
On Friday, Bob, Jack, Benton, and I all headed out to the National Museum of the U.S. Air Force in Dayton (Carson has been off in Maine with his grandparents for a week-and-a-half).
Julie and I took our kids to the museum over the winter, so Benton and I were familiar with the layout, but it was fun to return. Bob and I spent the first hour or so in the World War II area while Benton and Jack hit the Cold War, Modern Flight, and Missile and Space galleries.
When we met back up, I showed the boys Bockscar, the B-29 that dropped the atomic bomb on Nagasaki, in the World War II gallery. They diligently took down notes on their iPods: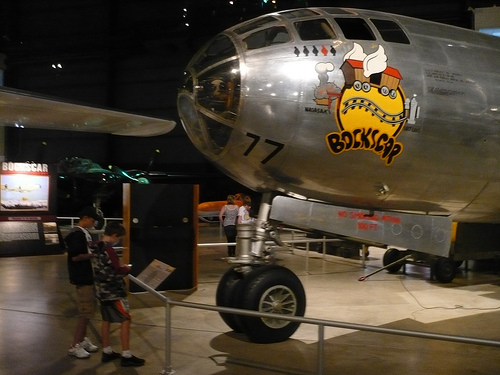 Something we had not done on our first visit was check out the Presidential and R&D hangars, which are housed on an annex of Wright-Patterson AFB and require a sign-up/security process. We managed to get seats on the 1:00 shuttle and, again, Benton and Jack headed off on their own. I briefly caught up with them as they headed through SAM 26000 — the first airplane made specifically as a Presidential transport (this was the same plane that carried Kennedy to Dallas, carried his body back to D.C., and on which LBJ was sworn in as President):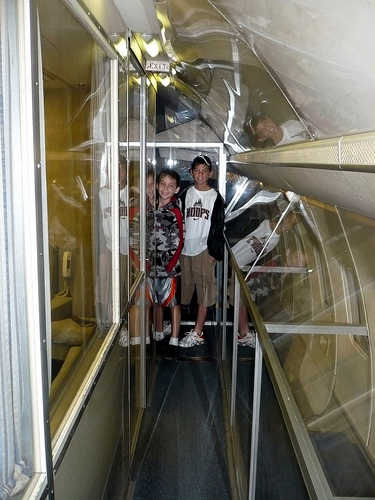 Bob was snapping pictures right and left as well: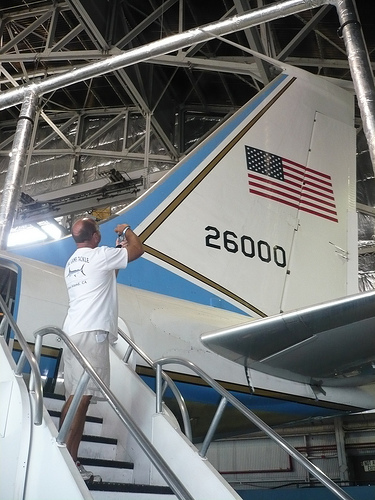 The benefit of wandering through the museum with an airplane buff (Bob) was that I picked up all sorts of historical anecdotes that I likely would have missed if I'd been trying to simply pick them up on the write-ups near each display.
We got back late Friday afternoon, spent Friday evening hanging out in our cul de sac with neighbors, and then dropped them at the Columbus airport early Saturday morning for their trip back home.
All in all, it was a great visit, and we're expecting them to wait less than two years before returning!