February 8, 2010
While it's been cold and snowy of late, we had a relatively warm period just a couple of weeks ago. That lined up with a weekend…which meant the Springburn Drive Social Circle promptly kicked into gear. We hauled out the fire pan to do some driveway Dutch oven cooking, as I'd been itching to try out a tamale pie recipe (included at the end of this post) that I got from a co-worker just before Thanksgiving. Julie made some jalapeño poppers, and we whipped up a batch of rolls. The spread wound up on the tailgate of my truck (I forgot to add the shredded cheese to the top of the tamale pie, but it was still scrumptious!):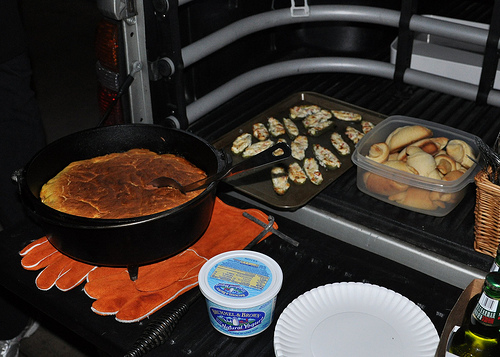 In typical Springburn Drive Social Circle fashion, the adults hung out around the fire…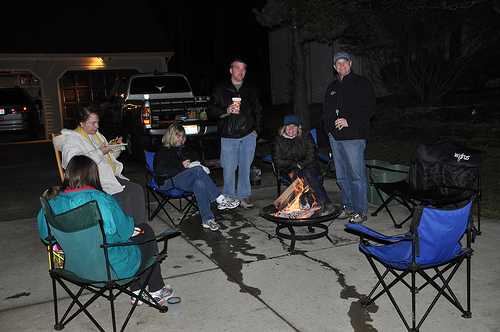 …while the kiddos busied themselves elsewhere (Carson was distributing lightsticks — Benton is not shown because he'd stormed off in a huff related to who was distributing lightsticks and how)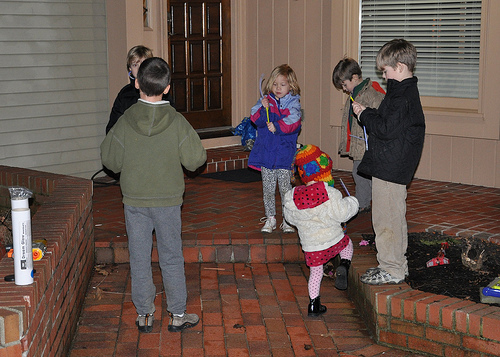 The Yapps were the last family to cave on the bedtime front. All of the other families gave up trying to pull their kids away from the fun at their designated bedtimes some time last fall, but the Yapps remained diligent about taking Sadie and Caroline home by 8:00 or 8:30. Something changed in the last few months on that front. All that is to say that this picture was taken an hour or two after Sadie's bedtime, which explains the catatonic expression: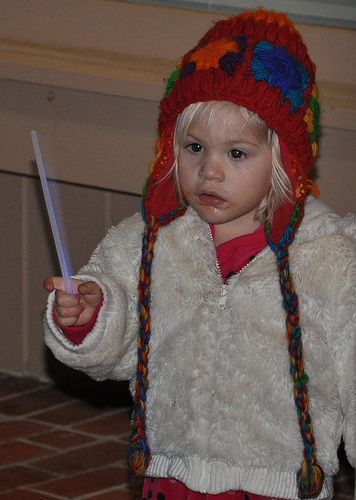 The next morning, Sadie was overheard saying, "Lightstick? I was playing with a lightstick? I have NOOO memory of that!"
And, as promised, the tamale pie recipe, courtesy of Laurie Hermance-Moore:
I don't really have a recipe, but it goes something like: 2 lbs ground beef, 1 onion, 1 green pepper, 2 cans enchilada sauce, 1 can or bag of mexicorn. I will admit here that I sometimes take the easy way out and do this next part at home.

Brown ground beef with chopped onion. Drain. Add the enchilada sauce, green pepper, and mexicorn. You can add a can of green chilies if you like. 1 tsp or so of salt. Simmer for a few minutes. (And then I cool it and bag it and freeze it)

At the campsite, take the thawed meat, put in a greased Dutch oven. Then, take 2 boxes of Jiffy corn muffin mix, and mix them up with the eggs and milk they call for on the package. drop it in spoonfuls over the meat. Bake for perhaps 30-40 mins. Top with cheddar, let it melt, and eat.

That's it. Always a hit.