March 30, 2010
If you give a child an option to swap his bed with a bed from the basement, you'll realize that it's going to be a pain to dismantle the bed that was originally built for his older brother and was not built for portability.
So…
You'll casually mention to his sister that his bed is going to be unused, and she will want the bed for herself, as she has apparently coveted the slide on it for quite some time.
So…
You'll realize that engineering a room-swap between your younger children will limit the bed-shuffling to two beds that are more easily disassembled. So you tackle that task, but then…
…you realize that both rooms need to be completely emptied of 2.5-years of accumulated junk, and if you're going to empty them of junk, you might as well go through and purge the no-longer-played-with toys and no-longer-worn clothes.
Once you've done that, you realize that the rooms are so emptied out that you might as well paint them, as you've never really liked the colors in either room.
And, if you're going to paint in your neighborhood, you have to get The Dedie involved, which means you'll probably wind up with something really cool like big flowers on the walls that wrap around to the ceiling.
While the painting is under way, your in-laws will stop by for a visit, and you will casually suggest to your father-in-law that it would be nice to go ahead and swap out all the outlets and outlet covers in both rooms and, heck, go ahead and install a ceiling fan and recessed lights in both rooms as well (none of the rooms had any overhead electrical at all before).
And, if your father-in-law and husband can install two fans and eight recessed lights in two kids' rooms over a weekend, you might as well have them install a fan and recessed lights in your oldest child's room while they're at it.
Once the new paint is on and the ceiling fans and lights are up, it will become "obvious" that new curtain tiebacks will need to be sewn (complete with little flowers and beads) and that new curtains will be needed for the bottom of the bed (that project is not yet done).
And, while the closet is empty, you will realize it's a good time to have your husband build some custom built-in shelves to make it a more efficient storage space.
Before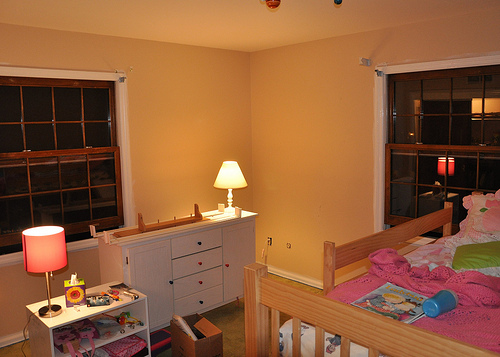 After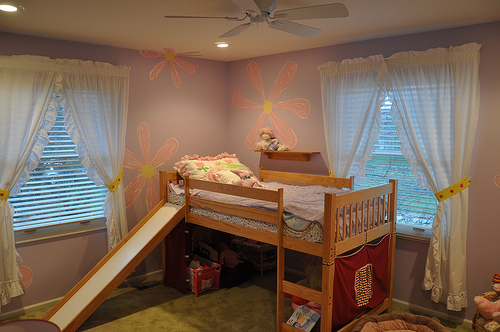 All told…your husband thinks it might have been a lot simpler to have disassembled the bed!
(The style of this entire post was based loosely on the most excellent series of If You Give a Pig a Pancake books by Laura Joffe and illustrated by Felicia Bond.)