June 4, 2010
Today is a landmark day in the Wilson household, as today is the day that Benton graduates. From elementary school. Why, it seems like just five or six years ago that he was graduating from daycare. Or maybe that was Carson. Either way, I was traumatized by the experience of a South Austin hippie-run daycare graduation that included packing a bunch of parents and kids into a very small room with very limited egress and then having a "crossing over" ceremony that involved each kid carrying a (very real and very lit) candle across a small bridge in the middle of the room.
One of my prouder moments of a parent occurred yesterday as I drove Benton back from baseball practice and he groused about having to suffer through the 5th grade graduation ceremony today, already predicting that it would be mind-numbingly tedious. That's my boy!
Now, in all seriousness (and by "in all seriousness" I mean, of course, "in utter mockery), Benton is growing up. He's beginning to ask questions. Questions like, "If my dad is constantly posting updates to a family blog, should I be regularly checking to see what he's writing to make sure he isn't embarrassing me?" He hasn't asked that question yet, but I know the days when I can freely publish Benton cute-isms are numbered. With that in mind, I have transcribed Benton's page in the Glacier Ridge Elementary 5th Grade Memory Book:
My 5th Grade Memories 2009-2010
Name: Benton Wilson
Nickname: <blank>
Parents: Tim and Julie
Siblings: Carson and Alana
Pets: Molly (Dog)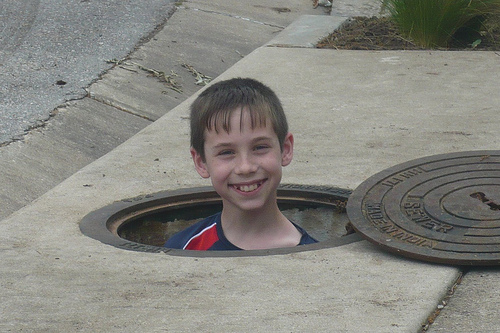 A Few of My Favorite Things
Food: Cherry Pie
Color: Midnight Blue
School Subject: Math
Game: Guitar Hero
T.V. Show: <blank>
Book: The Gray Ghost (Ed. Note: This is a book that was published in 1926 and that, like his dad, Benton dug out of a box of books that was floating around as a hand-me-down from a prior generation. The editor thinks he may need to give it another read, and also sort of wonders if his mother will chime in with additional reader lineage details.)
Hobbies: Lasers and fire making (Ed. Note: That's not what it sounds like.)
Candy: <blank>
Movie: <blank>
Sport: <blank>
Other Activites: <blank> (Ed. Note: These last four items were all in a second column, and it is the editor's opinion that Benton was exhibiting his characteristic attention to detail — and lack thereof — when faced with a task in which he had little interest and simply missed the entire column.)
Family Vacation: When we went to Colorado (Ed. Note: this was in the summer of 2006 — family vacations apparently have been downhill ever since for him. See photo at the end of this post.)
The best thing about 5th grade: Getting more privileges.
My favorite Glacier Ridge Memory: When the bridge on Mrs. Bordon's violin snapped.
What I am looking forward to about Middle School: Having multiple teachers and getting home a lot earlier
When I grow up, I want to be: an electrical engineer
My goals for the future: To be a lot more organized
I'll always remember: MY FRIENDS
Ed. Note: It seemed worth digging up a picture of Benton from that family vacation to Colorado. The picture below was actually taken in New Mexico en route to Colorado, but it's the same trip: