July 29, 2007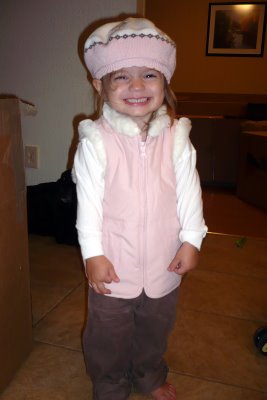 Kim's always been the member of the family with the most developed fashion sense. Her dad was born wholly apathetic on that front. Her mother cares deeply…but gets wracked with indecision when faced with a rack of outfits. Her brother (me) has spent the past 20 years trying to become truly apathetic…but not quite being there (yet).
Benton and Carson, so far, have taken after their paternal grandfather so far (um…and their maternal grandfather, for that matter). Alana, on the other hand, has insisted on picking out her pajamas each night for several months. And, once, when she was not much more than a year old, she made it very clear to Julie, while they were shoe shopping, that she wanted the PINK shoes!
Kim called up today to see if it would be possible to get a shopping trip in with Alana. While I took Benton to a rollerskating birthday party, Julie, Kim, and Alana headed out to select the above ensemble (Alana insisted on wearing the pink vest over the red-and-white checkered dress she was wearing during the trip). Carson is off in Gause for a quick one-day/one-night trip of fishing and peeing in the woods with a couple of 65-year-old twin brothers…one of whom is his grandfather.