January 31, 2008
As Tim reported earlier, Alana slept in her big girl bed for the first time on Tuesday night. This is the bed that was my mother's when she was a little girl, which Alana refers to as "Grandma's bed" simply because Grandma Marilyn slept in it while she was in her crib the first few nights we were at our new house. Alana has not grasped the concept that is really is "Grandma's bed", but for a different reason.
Since I have only one bed-rail for the bed, Benton got to sleep with Alana on Tuesday, to ensure that she did not fall out. Here is a picture of the sleeping duo a few hours after they headed to bed.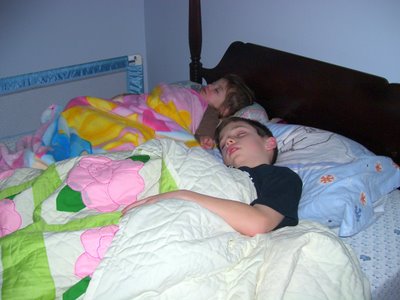 On Wednesday, she was going to sleep with Carson. This did not work out so well as "playing with Carson" was more descriptive. I ended up having to send Carson to his bed. It turned out that Alana did just fine with only one rail. This is surprising considering all the different directions she would sleep in when in her crib.
Today, I suggested that we could move her crib out and make more room for her Kitchen. She liked that idea and wanted to go tell Dad immediately. With Tim working from home, it was easy for Alana to make the request and get assurances that he would move the crib out this evening.
So, as of tonight, Alana has only her big girl bed in her room. This might explain why this was the HARDEST night to get her to go to bed. On the previous nights, I was able to convince her to cooperate in her big girl bed or else she would have to go back into her crib. Without the crib-option, she took full advantage, claiming at various times "I need to go potty" (three separate times), "I need to change my sheets", and "I have to have Sara" (one of her 6 baby dolls).
This same week, Alana has been making great progress on the toilet training. I am not going to get too excited just yet, but Wed. and Thurs. were days of big girl panties with no white-carpet-staining incidents. We shall see. At the rate she is growing up, I expect she should start losing her baby teeth by this summer and will want to drive my car by Christmas.