February 10, 2008
Grandma Marilyn rolled into town on Thursday and brought with her a carload of stuff that Julie and she are dividing up to unload between craigslist and eBay. In the meantime, Carson has set up a "museum" in the family room with all of the neat stuff (he really wants to publicize the museum's existence on the internet so that he can draw people in and charge them admission; all the money, of course, will go to Grandma Marilyn, since all of the exhibits are her stuff! Possible blog entry to accomplish that publicity to come…)
The picture below has two Grandma Marilyn pieces: 1) the parasol arrived with her on Thursday, and 2) the tap shoes (see the metal on the toes?) arrived a couple of weeks ago in the mail. There is a story of Marilyn being deprived of the opportunity to learn to tapdance when she was a child, and she finally saw her chance to live the dream through her granddaughter!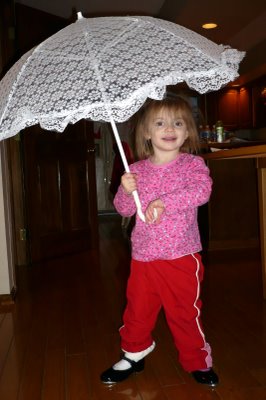 Benton, meanwhile, is a burgeoning experimental photographer. Carson and he set up a tunnel/fort in the basement with blankets and furniture. Then, they got out light sticks (2 each for Benton, Carson, and Alana), turned off all the lights, and crawled through the structure. Benton took ~5 pictures of Alana from 2-3′ away…in the pitch dark. It's no wonder that she looks a bit perplexed.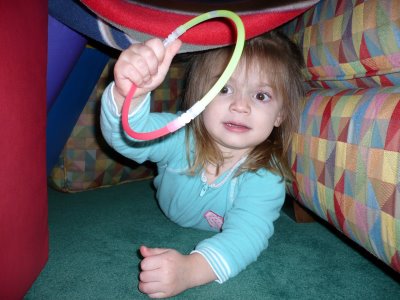 Julie and I got away for the night on Saturday while Marilyn watched the kids (apparently, watching 3 kids was too ho-hum, so she called up and had Colin and Evan — brothers who are classmates of Benton and Carson, respectively — come over for a few hours. Julie and I left late morning on Saturday and meandered down to Cincinnati for the night. Along the way, we stopped for gas at a full-service gas station in Plain City (I had no idea those even existed any more — self-service was not an option, and the price was the same as we saw elsewhere on the trip) and spent a couple of hours at the outlets in Jeffersonville (Julie now owns a pair of heeled, knee-length leather boots! Patty will be so proud!). As tends to happen when we go shopping, my enthusiasm waned just as Julie was getting on a roll. But, all in all, we got some things we…er…"needed" at some great prices.
In Cincinnati, we got a good deal at the Westin downtown, managed to do a little ice skating in an outdoor rink right next to the hotel (my second time on ice skates — one semi-controlled spill and two spills-that-almost-were-but-from-which-I-recovered, so, overall, I felt pretty good about it), had a couple of absolutely terrible, yet overpriced, martinis at the Havana Martini Club (it's just not a good sign when the brie is heated in a microwave and served with plastic plates and knives!), but then had additional appetizers and some great martinis and phenomenal service at the Boi Na Braza Brazilian Steak House. We will go back there! We slept in on Sunday morning, lounged in bed reading our respective novels for a while, lingered over a breakfast-from-our-college-days at Bruegger's Bagels, and were still back in Dublin by early afternoon. As tends to be the case when we get away alone for 24 hours, we just couldn't stop smiling at each other. I'm a lucky, lucky guy. And Marilyn is going to watch the kids on Valentine's Day, too!