February 16, 2008
Winter in Ohio has provided sledding, snowball fight, snowman, and snow angel opportunities. It also has the potential for some outdoor ice skating at the Dublin Recreation Center's rink. We moved from Texas with rollerblades and plenty of roller skating experience, but do not own a single pair of ice skates. Before investing in ice skates for the family, I thought it a wise move to try out ice skating first to make sure it was a hit. Today we did just that by heading to the indoor Chiller Ice Rink here in Dublin, where we skated for 2 hours this afternoon.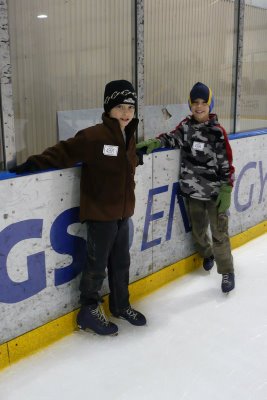 We started off by picking up two of Benton's friends from school – Nick and Josh – and then drove to the rink. (Nick and Benton are pictured above.) It took a little bit of effort to get skates in the correct size for everyone, but we finally hit the ice. Aside from comments about it being bumpier than rollerblading, it did not take long for both Benton and Carson to leave the outer wall and speed off around the rink. Carson even took time to discover the penalty box, where he could go take a break. In there, he found a similiarly imaginative boy about his age who was "in the penalty box for high sticking". (For those of you not familiar with this lingo, he was using the hockey "time out" spot for the imagined foul he pretended he got for improperly using his hockey stick.) Carson seemed to enjoy this and took off imagining himself a hockey player, thus referring to our outing a few times as playing hockey rather than ice skating.

After we headed home, it was decided that indeed, we needed to get some skates, as it was really fun. Next week, we plan to try out tubing at the Boston Mills Ski area near Cleveland with a few cousins. More winter fun to come….