February 16, 2008
We uprooted the family so we could move closer to my family. Friday night, we got together with my cousins, Lisa and Michael, and their families: 9 children, 6 adults, 2 large pizzas, 1 very large yellow lab, and 1 Nintendo Wii. Chaos. Bedlam, even. Overall, it was FUN!
Michael failed to change Luke's diaper before he and Jen loaded up their 3 kiddos for the drive to the Leathermans' house. The result? His pants were soaked within 10 minutes of his arrival (diaper technology has progressed considerably in the past 20 years…but they still do not have infinite capacity). In a show of solidarity, Alana held it in when I made her go potty…only to let it all out 15 minutes later. We're definitely mid-potty training.
Appetizers, catching up, kids bouncing off the basement walls and glued to the Wii for bowling, followed by pizza and then some cake as part of a belated birthday celebration for Emily, who turned 9 a few weeks ago. After that, it was the adults turn to challenge the kids to some Wii fun (Benton, we must point out, fought two-time Academic All American — Ohio State Baseball — Mike Repasky to a 0-0 tie on Wii baseball) before we finally had to call it a night.
Here is a picture from the cake scene, showing 7 of the 9 cousins. Clockwise from top left: Benton (3rd grade), Hannah (1st grade), Natalie (1st grade), Carson (kindergarden), Emily (3rd grade), Abby's head (age 4), and Alana's head (age 2). Not pictured are Ryan (age 5) and Luke (age 1).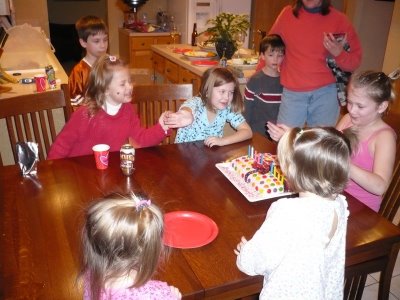 Carson figured if the adult kids were going to play Wii, he might as well check out an adult beverage (okay…so this might be highly staged with an empty bottle by Tim), which garnered a disapproving scoff from his older brother.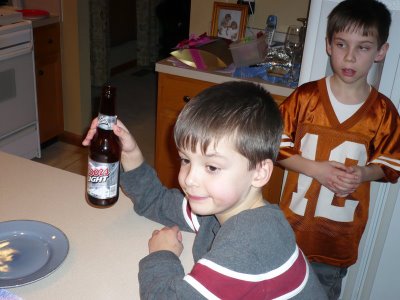 Alana made out just fine with a little cake. This kept her going for awhile, so we did not have to "worry" about her falling asleep too early.