March 8, 2008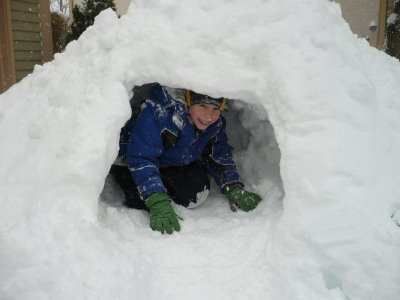 Rewind to the end of January when Benton whined about the lack of snow. His question to me was "When are going to get snow that is fun?" We had a few fun snows earlier in the season, but January was mostly dusting or too fast to melt.
Officially, we have snow that is fun……. Snow has been coming down since about 9:30am Friday morning. I shoveled 4 times yesterday, trying to avoid a huge pile-up. That seemed a bit useless this morning when I looked out and could not see where my driveway started. I managed to shovel the 12+ inches that were on it. Once finished, there was another inch or so where I had already shoveled. It is starting to taper off and the blizzard warning officially ends at 4:00pm today.
Alana is going to Caroline's house across the street at 4:00pm so I can walk with the boys down to the neighborhood sledding hill. Otherwise, we will be hanging out at home. The school carnival and the Recreation Center's Superheros event, which we were planning to attend today, have been cancelled. Tim's flight from Austin has been cancelled for tomorrow due to our weather, so the laundry will have to wait until Monday night. At this point, no more snow is forecasted, until tomorrow ;-]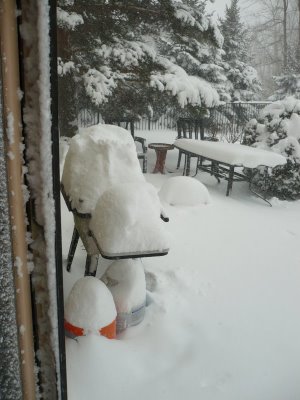 This is a view of the backyard taken this morning about 9:00am. We have had 6+ hours of snow since these pictures were taken.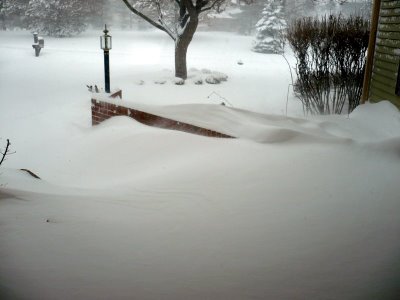 A view out the Family Room window taken this morning. If you look out toward the pine tree at the top of the picture, you see a small item in the snow – which is the almost covered fire hydrant. As of now, this item is fully buried.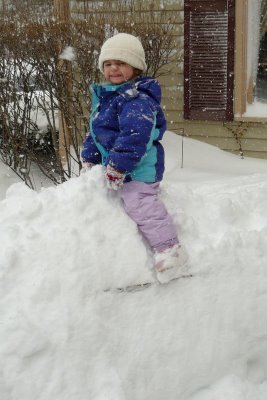 Alana decided to climb on the wall and "ride the horsey". She helped shovel the snow with a garden trowel.