November 9, 2008
Clearly, I wasn't blogging!
We've got a slew of photos/experiences to document — Halloween, a trip to West Virginia, and Julie and Alana's trip to Colorado. Exciting stuff. But, I've been almost-all-consumed by seeing how much headway I could make on a built-in bookcase/window seat in our family office.
Julie picked the basic design out of a book I had ordered on a whim. The project was a little scary, but I decided to give it a go. The "family office" is the second major room that Julie has tackled, and it had already been painted, had new baseboard installed, and been heavily considered during an IKEA trip — the desk that will ultimately go in the room has been selected but not yet purchased.
I did the planning, lumber purchasing, and minor electrical work all before I really started the project in ernest on Monday morning. I'm writing this post on the following Sunday evening, so this is exactly seven days of work. For four of those days, Julie and Alana were in Colorado, so I had the boys. The Springburn Painting Cooperative Association (SPCA) — also known as "Dedie and Beth" — decided that it would be great to surprise Julie upon her return by having the built-ins painted. That added some pressure for me to get them built and installed in time for a coat of primer and a couple of coats of paint. We did it!
The pre-project photo: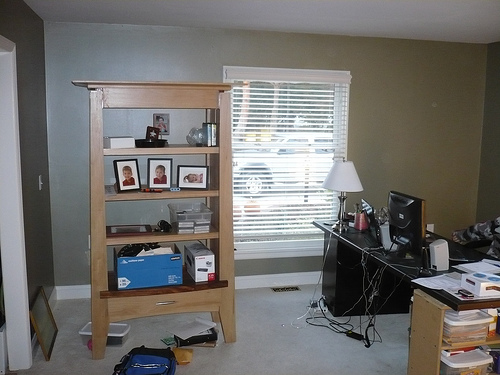 The lumber: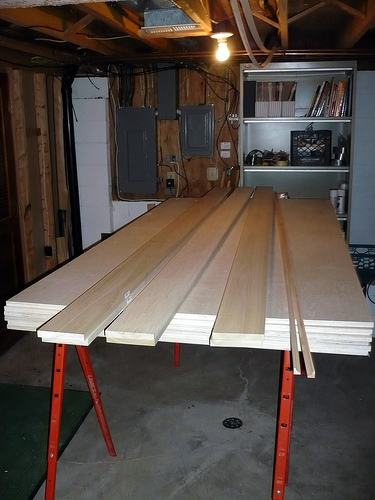 The (almost) finished project: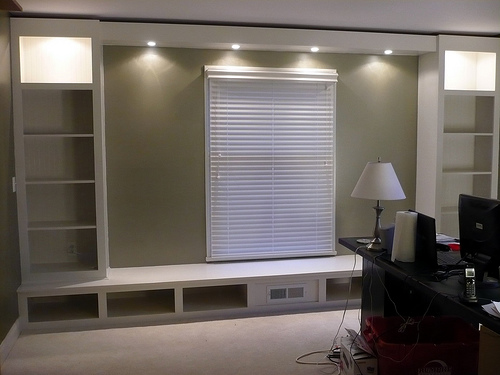 The leftmost and rightmost bays in the base will have drawers added to them (the other little cubicles will simply have baskets for storage in them), and I'm going to add crown moulding across the shelves and around the entire room. And, Julie is going to add a cushion on the window seat. But, those are evening/weekend-type projects — the really big undertaking is done!
If you want to see how it all went together along the way, you can view a dozen photos that show the progression, or play this one-minute video: