May 1, 2009
I think I've mentioned in the past that a local neighborhood recipe has developed that takes the following ingredients:
Gorgeous weather (which seems to be in abundance)
Friday or Saturday night
A portable fire pit
Firewood (thanks, Bob)
At least 2-3 parents from different houses seeing each other and realizing that no one has big plans for the evening
Sometimes, it's drinks only. Sometimes, it's "let's all pitch in for pizza," and, most recently, it was "let's wheel the grill out and everyone bring something to throw on it." The kid count has ranged from 10-18, Julie usually pulls out a tube of light sticks to distribute once it gets dark, and the evenings tend to run pretty late, but they are consistently a good time!
It helps that Benton loves to build campfires, and he's quite good at it. A few weeks ago, we'd talked about having a fire, and I asked Benton if he was good to go out and get it built. By the time he was done, our driveway looked like this (he even took the picture!):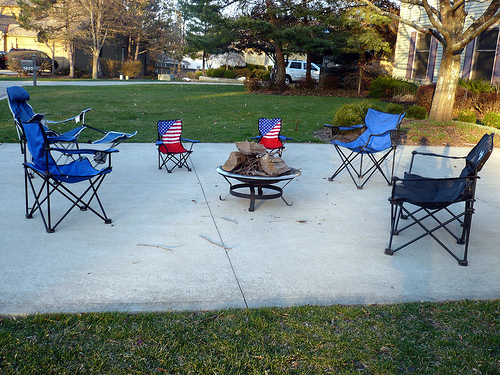 It's another Friday, and tonight is Benton's month+ delayed birthday sleepover with a handful of his friends. That means it's probably NOT going to be a cul de sac social tonight, but there will be more!