May 12, 2009
Benton got a dragon-style kite for his birthday. And, as seems to be the case with kites, the first time he got it out and gave it a shot was on an utterly becalmed day.
After a very windy baseball practice this past Saturday morning, followed by a very windy soccer game that afternoon, I commented, "Gee, Benton, today might be a good day to fly a kite." He agreed. After dinner, he, Carson, and I drove a half a mile to a nearby field and gave it a shot. The coolest part of the experience, in my mind, was that Carson wound up being the kite holder, while Benton was the string holder, and they didn't get frustrated with each other about it at all. I could just sit back and watch.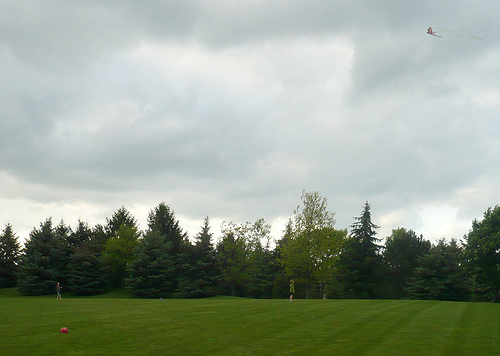 You can click on the picture to get to a larger verson, but that's Benton at the bottom left and Carson to the right of the middle looking up at the kite.