July 12, 2009
We headed to West Virginia this past weekend, which, as usual, should trigger a handful of blog posts.
Benton is a fan of Dutch oven cooking, so we spent 30 seconds while we were planning the food for the trip trying to think what a good coal-fired dish would be. We pretty quickly got to: cherry pie! I've made a cherry pie in a Dutch oven once before — it was on a trip out to Big Bend some time BK (before kids), and it was quite a challenge. With that recipe, the Dutch oven itself was the pie plate. This time, we went much, much simpler — just used a pie crust mix, the Cherry Lattice Pie recipe from the Better Homes & Gardens cookbook (our standard recipe), and our regular glass pie plate.
Fueling the oven with coals from a fire in the yard of the farmhouse (my first batch of coals weren't great, so it wound up taking ~30 minutes longer to cook than the normal oven time):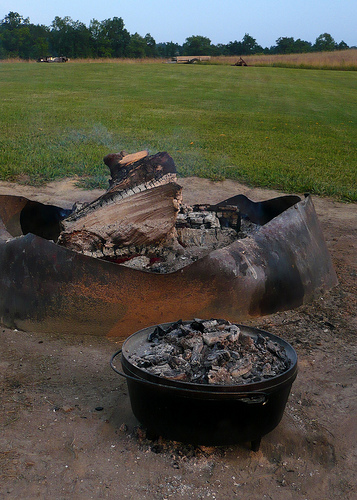 The co-chef shows off his handiwork: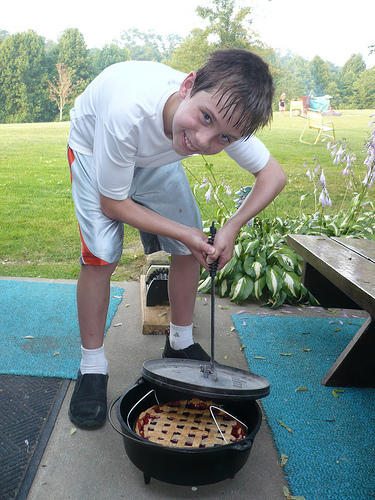 And…a straight-on shot of the final dish (I actually thought to throw a coathanger in as we were packing up so that I could fashion a mechanism for living the pie plate out of the oven — maybe I am learning a thing or two as I get older):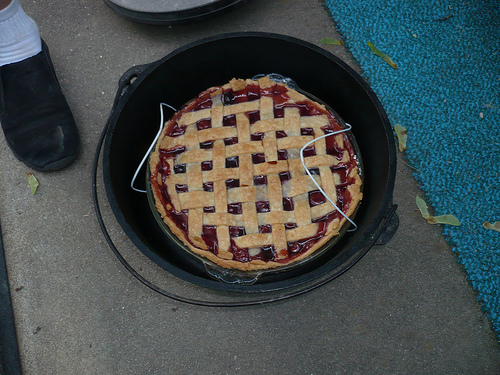 It tasted great, but, as has been the case the last 3 or 4 times we've made a cherry pie, it was rather runny, even after it had cooled for an hour or so. Does cornstarch go bad? We need to do some research and future experimenting.