January 9, 2011
Hmmm… weekly passes means there's a risk that there will be a weekly post on this subject. Maybe not. We'll see. The thermometer read "7 degrees" this morning when we got up, but the temperature was supposed to get up into the high 20s. As it turned out, it was a cloudless, windless day, so another perfect day for skiing. And, we got going pretty early, so we had a good 2-3 hours of no lines whatsoever at any of the lifts.
When you're standing at the top of a run and see nothing but grooming machine grooves in the snow, you know you've got the slopes largely to yourselves: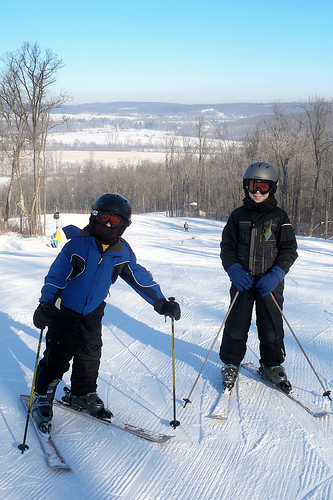 After a couple of runs on greens and blues, Carson, Benton, and I headed over to the lifts that go up to the blacks. And…that's where the two of them spent the rest of the day. No matter how we started out at the top of the run, Carson "The Bullet" would make about three big turns near the top and then just rocket straight down the rest of the hill. He judged each run by how much "air" he caught coming over one of the steep sections about halfway down (only one big wipeout there, partially induced by another skiier who was similarly inclined). Benton, on the other hand, was determined to perfect his parallel skiing form, and he wanted to savor each trip, so he would be the last one down. The blacks at Mad River are how I remember the blues at Killington, which means Benton was still moving at a pretty good clip, but with a methodical style.
Here's Carson wrapping up a run (the only reason I was below him was because I'd skated off to check on Alana, so the boys were on their own):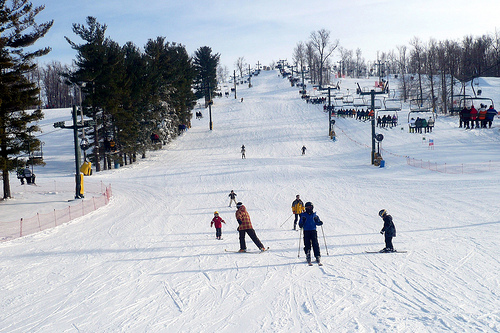 Alana was in a 2-hour class, so the remaining four Wilsons (as well as a neighbor whose daughter was in the class with Alana) did some skiing together. We headed up a 2-chair lift and Julie and I rode together, which meant Benton and Carson rode together ahead of us. We didn't realize until looking at the picture later that Carson appears to be snuggled over next to his big brother. We have no doubt that this was wholly unintentional and it was just where his butt landed on the chair. That doesn't mean this shot won't be getting dredged up with a story of sibling affection at some point down the road.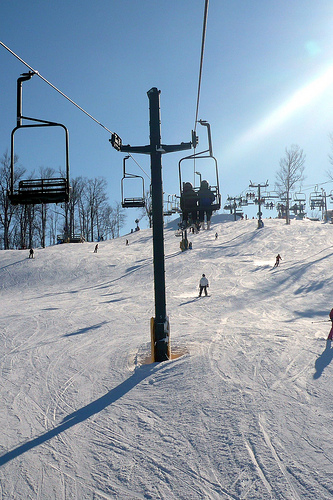 Alana finished her class, had lunch, and then was a complete wreck for ~45 minutes (not helped by the fact that she lost her goggles, so she peppered her grievances with references to how bright it was). After that, she brightened up and spent a few hours going up and down the bunny hill, happy as a clam. She's starting to get the hang of turning and of slowing down, so we're hoping we're riding the chairs up to a green slope or two with her by the end of the season.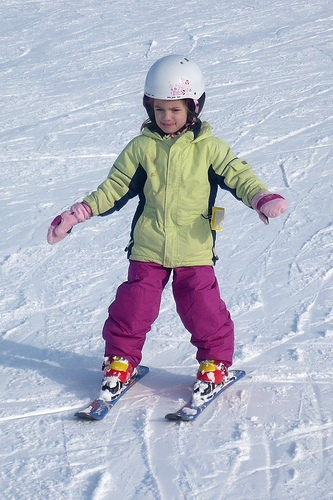 For his part, Benton commented 2-3 times during the day that he was having fun, and, spontaneously, when we got in the car to head home, he let loose with another, "That was fun!" He was right. The family is hooked.