March 27, 2011
Two weeks ago today, I got in my truck and drove to Cleveland to catch a flight to the west coast. 12 days and 6 beds later, I returned home this past Friday. The quick rundown looks more like one of my parents' itineraries than one of mine, but it went like this:
3 nights — San Francisco for a conference for work
2 nights — Palo Alto at my companies office there
3 nights — back in San Francisco with Julie (for fun)
1 night — Wadsworth, OH (picking up the kids)
2 nights — Ellicottville, NY (skiing)
1 night — Niagara Falls, Canada
And, Benton and I are heading out for a long weekend in Austin this coming weekend to catch some Longhorn baseball.
The first week was all work. If, for some odd reason, you're interested in the work stuff, you can read my summary of the conference over on my other blog.
Julie's and my stay in San Francisco was a lot of walking around, a good deal of shopping, and a lot of cheese-and-wine interludes. The first full day we were in town, it drizzled constantly, so I only took our little camera out and about with us. The second day, the forecast was for rain all day…and it was sunny all day. So, again, I just took our little camera.
Walking around on the first day, we snapped a few drizzly pictures of the two of us, including this one with Alcatraz in the background: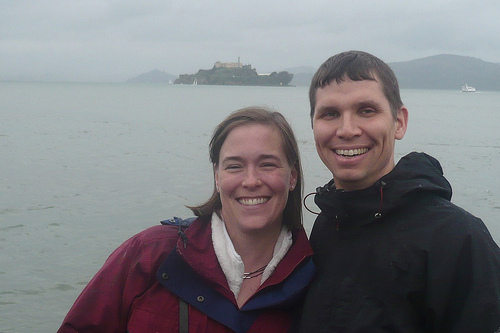 The shopping included a quest for a jester hat, which resulted in no jester hat, but both Julie and I bought hats. As Julie noted, this will probably be the only time she wears this hat while also wearing a fleece pullover! (My new hat shows up later in this post…)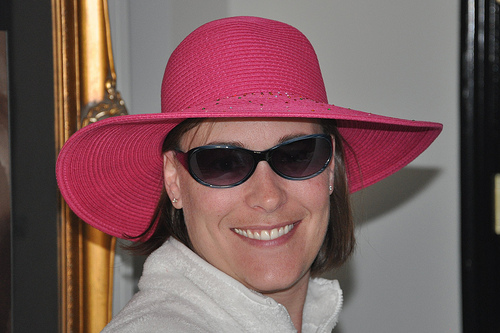 A Tim-Julie Travel Tradition…
When we're traveling, and we find bronze statues, we take pictures of Julie with them. A picture from 2003 in Poland and a picture from 2008 in Canada are available here. In San Francisco, opportunities abounded!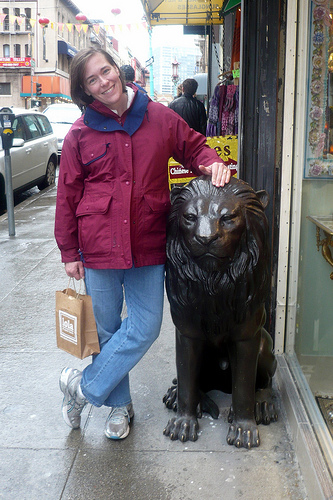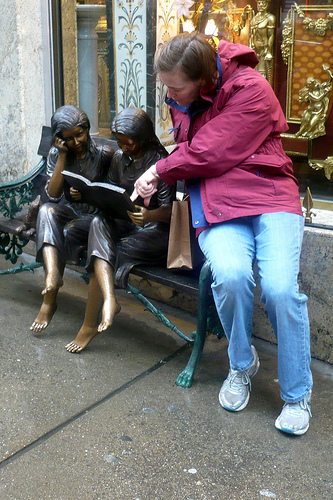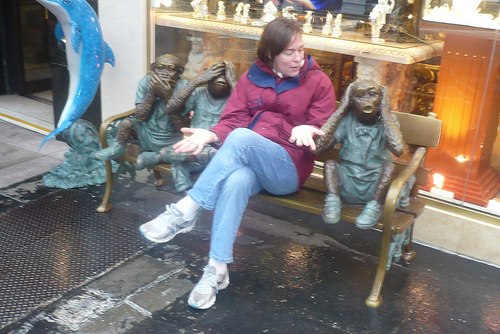 Alcatraz
On Sunday, we took a trip out to Alcatraz, which was pretty interesting. We did the self-guided audio tour. Julie took this picture of me (new hat!) just outside the warden's office with San Francisco in the background: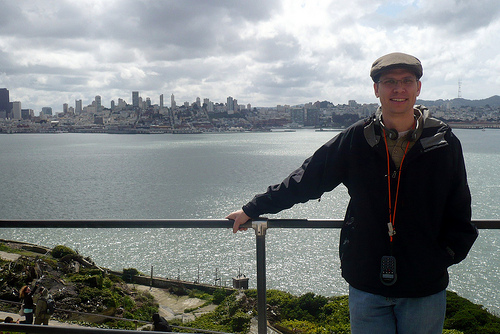 Looking over the ruins from some of the buildings when Alcatraz was a military prison (before it's 29-year run as a federal penitentiary):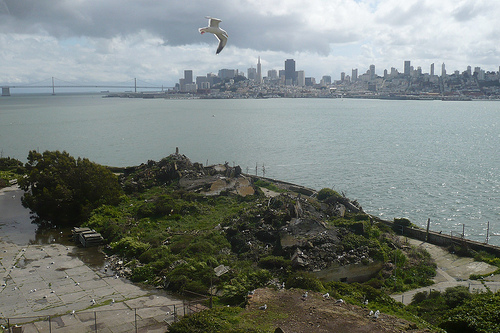 Looking back up at the cellblock: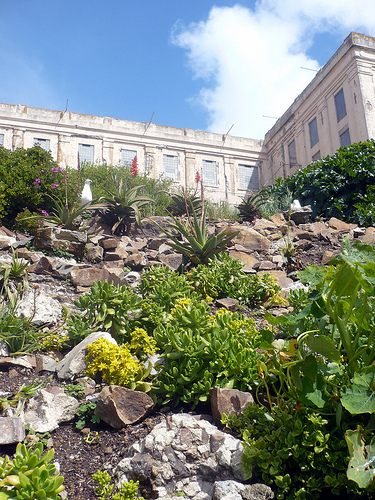 Overlooking one of the lower buildings (with a rather flooded flat roof):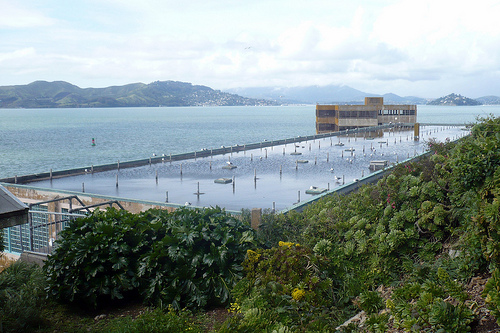 Union Square
We stayed at a hotel just off of Union Square. On Monday morning, we wandered around a bit, and I had the good camera with me, so I took this shot looking into Union Square (well, three shots, actually, as I combined them after the fact using some HDR software).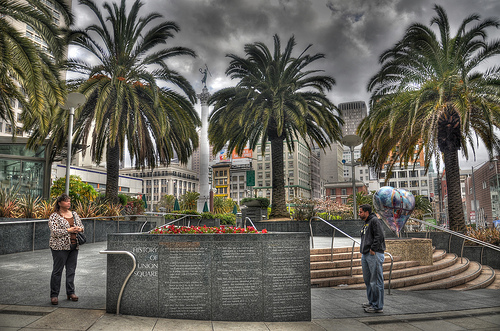 It was an incredibly fun and relaxing trip! From there, we headed back to Ohio to pick up the kids for spring break. Pictures from that tomorrow!